We thought we would share some tips on how to liven up your smoothie and raise it to a whole new level!
Smoothies are very versitile and can be used as a meal replacer, an easy way to include more nutrient-dense foods, a post-workout drink, or simply.. a nice refreshing snack! When "cleaning house", it's important to ensure that you're consuming adequate amounts of vegetables, lean proteins and healthy fats. When days are a little hectic and mornings are rushed, smoothies are a great way to achieve this balance. When we think of smoothies, we often think of fruit and forget about all the other good stuff. Although many fruits are nutrient dense (and tasty), the high fructose content spikes our blood sugar the same way that regular sugar does. This is not to say that we should all avoid fruit! However... it's all about finding balance and new ways to enjoy your smoothie without having to spike your blood sugar or sacrafice the taste. This can be accomplished by adding protein, healthy fats, fibre...and of course, limiting the amount of fruit!
The FODMAPS "Diet"
provides a good reference to foods containing carbohydrates that quickly move through the digestive tract to the large intestine (colon), where they can draw water into the colon. They are then  rapidly fermented (digested) by naturally-occurring gut bacteria, producing gas and other by-products. When choosing fruits to add into your smoothie, be weary of these high FODMAP foods, especially those who suffer from digestive ailments. Click here for some more information on the FODMAP diet. 
Below are 7 ways to invigorate your smoothie!

Natural Sweeteners
 fruit (try to choose only one and cut the portion. You would be surprised at how little you really need to taste the sweetness!)
medjool dates (1-2 dates per serving. If they're a little tough, try soaking them in a bit of warm water before tossing them in your blender)
stevia (This is a great alternative for those with a sweet tooth. Stevia is a natural sweetener, not artificial, that does not influence the blood sugar. Click here for some more information. Tip: it's extra sweet! Start with about 3-5 drops, or half a package, and adjust accordingly)
vanilla
raw honey or local maple syrup (use sparingly!)
prefer something bitter? Try adding in a couple of organic coffee beans for a little kick. This pairs well with a chocolate protein powder! 
* If you're using a flavoured protein powder, such as chocolate, berry or vanilla, try no sweetener and only add if needed! Read the label of your protein powder as they generally sweeten it themselves already! *
2. Consistency
1/4 to 1/2 avocado (depending on the size -- avocados will make the consistency buttery and smooth!)
nut butters 
cooked quinoa
oat flakes (great to add into post workout shakes)
1/2 frozen banana (counts for consistency AND a sweetener!)
Kefir or unsweetened greek yogurt (read the labels!)
ice (I add about 6-8 ice cubes, adjust to your liking!)
3. Fibre
 chia seeds
ground flax
dark leafy greens
fibre blend 
if you juice, keep the leftover fibre and add it into your shake! 
4. Daily Supplements
omega oil (ie. fish oil, flax oil, hemp oil, borage oil. Promise you won't taste it!)
probiotic (breaking open one of your daily servings of probiotics is a great way to enhance the advantages of your supplementation. In doing so, you can reap the benefits of good oral health as it makes its way down)
greens powder 
antioxidant blend (ie. Progressive PhytoBerry blend)
chlorophyll (great blood cleanser! Try adding in some mint flavoured chlorophyll to make a chocolate mint smoothie!)
* This is a great way to get your daily supplements in one dose. If you're breaking open a capsule, we recommend you give it a little sniff first to make sure it's not too potent as this may change the taste of your smoothie. Try starting off by experimenting with breaking open a single supplement each time so if there's something funky tasting, you know who's to blame!) *
5. Protein
whey protein (there are SO many different kids out there and they ALL vary drastically in quality! Be cautious of proteins containing artificial flavouring, colour, sweetener, sugar, added amino acids and poorly sourced whey. Just to name a few, some of our favourites include: AOR Advanced Whey, Progressive and Desiel)
vegetarian protein blend (some of our favourites: Manitoba Harvest hemp protein, Metagenics, Genestra, Progressive)
hemp hearts, nuts, seeds, etc. 
6. Base
seed milks (ie. hemp milk)

nut milks (ie. almond milk)

organic goats milk

water

coconut water 
* generally about 1/2 cup of "milk" with 1/2 cup of water or coconut water is a good combination. *

7. Functional/Superfoods:
cacao powder/nibs, shredded coconut, bee pollen, goji berries, matcha green tea powder, turmeric, wheat grass, spirulina, maca powder, coconut oil, cinnamon, etc!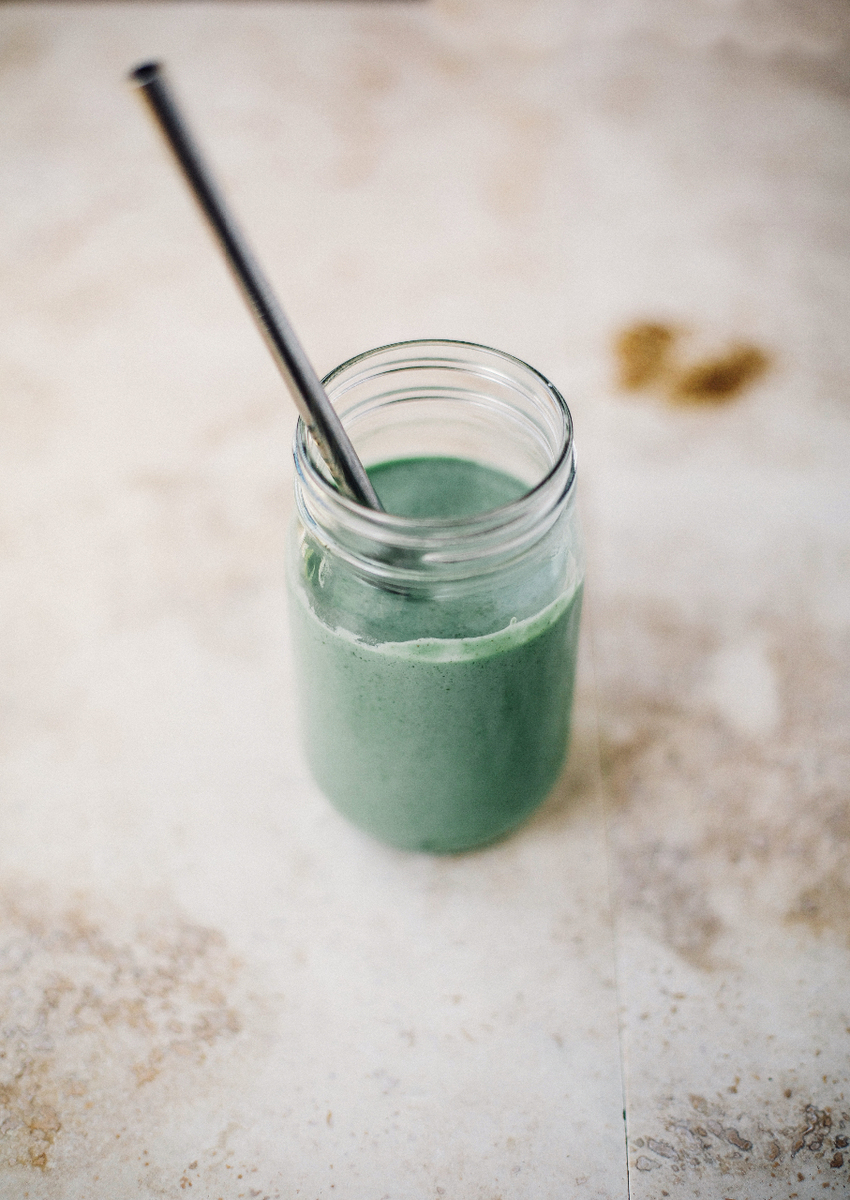 A Smoothie Favourite...
2 tsp. cashew butter
1 scoop protein powder (veggie or whey)
1 scoop greens powder (ie. Genestra Phyto Greens, Progressive VegeGreens, Innate Renewal Greens, Brad King Wild Greens, etc.)
1/4-1/2 frozen banana or 5 drops liquid stevia
1 tsp. vanilla
1 tbsp. shredded coconut
1/2 cup "milk"
1/2 cup water or coconut water
ice (approx. 5-6 ice cubes)

yummy options to add: 1 tsp. maca root, 1 tsp. cacao nibs, cinnamon, coconut oil, daily supplements

Blend and enjoy! 

This is a pretty hefty smoothie. If you're just looking for a snack, keep it in the fridge and enjoy later. If you want it a little thicker again, just add more ice and water then toss it back in the blender! Easy peasy.